NEWSLETTER O.F.M.
a monthly publication of the Franciscan Custody of St. John the Baptist
PAKISTAN
---



in memoriam
Rev. Fr. Liberius Pieterse O.F.M.
12/2/1905 – 24/9/1973



Portiuncula Friary
NOVEMBER 1973
---

EDITORIAL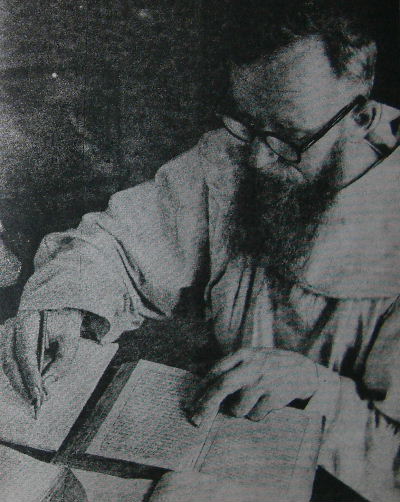 What is it that makes a man exceptional? Everything - and nothing. Everything in as far as every man is himself, and himself only: there is nobody like him, and one can certainly say this about a man like Fr. Liberius. But nothing in as far as, deep down, every man is the same as everybody else. Whoever has known Liberius knows that he was exceptional, an un-common man with rare talents of heart and mind and intelligence; and at the same time, one of the most inconspicuous and unassuming.
This special issue of NEWSLETTER O.F.M. takes the place of the regular monthly issue of November 1973, but it is entirely devoted to him. It does not intend or claim to give a complete picture of Liberius' kaleidoscopic life and his richly variegated personality. His Eminence Cardinal Cordeiro sent us a letter which speaks for itself; then there are some letters from people who were closely associated with him in his scholarly work, some personal memories of people who found in him a friend for life, a summarized "curriculum vitae" with his most important publications, some more details about his very last days in Rome: all this together may serve as a humble memorial to this "great little man" whom so many hundreds remember with admiration, gratitude and affection.
---

From Cardinal Joseph Cordeiro
ARCHBISHOP'S HOUSE
St. Patrick's Cathedral
Karachi 3, 4th December, 1973.
Dear Fr. Anselm,
I am very happy to know that a special issue of Franciscan Newsletter is to be published to honour the memory of Fr. Liberius Peterson, O.F.M.
Fr. Liberius was a man unique in many ways, and gifted with many outstanding qualities. Foremost among these was the realisation in his life of the true Franciscan ideal of poverty and service. He went out to all, and, in the spirit of St. Francis, physically spent himself in a dedication especially to the poor and downtrodden, that touched upon the heroic. It was his deep love for the written word of God and for the Liturgy that gave such scope to his intellectual genius, and yet behind it all was a man shy and sensitive, whose sincerity and humility shone in the utter simplicity of his life and bearing.
There was a moment in his life when external circumstances and changing situations bore heavily down upon him. That was a moment of gloom and despair when seeming frustration inclined him towards service of the Church in a richer and more satisfying country. But it will ever remain to his credit and eternal reward that, acquiescing to the advice of his superiors, he finally chose to continue serving the Church in this Country, and died in actual harness.
(sd/-) Joseph Cordeiro
Cardinal Joseph Cordeiro
Archbishop of Karachi.
---

The Rt.Rev. William G. Young, M.A., B.D.
Bishop of Sialkot
to Fr. Theobald Schutijser O.F.M.
4th October, 1973
Dear Fr. Theobald,
It was with a sense of personal loss that I heard the other day from Fr. Maynard Noes of Gujrat that Fr. Liberius Petersen had passed away. I had the privilege of knowing him since 1967 only, when I spent a week-end with him in Multan, working on transliteration into Urdu of proper names. I had a longer fewllowship with him in the autumn of 1968, when he was one of the Catholic team who came to Khairagali and stayed a week working on a Dictionary of Christian Terminology. I have met him frequently since.
He was a great scholar, and one of my prayers was that he would live to see the work on the Dictionary of Christian Terminology completed and published. He lived to see it completed, but it is still I understand not published, and I do hope that the work of publication will be pressed on and completed.
I also had the privilege to be present at the Vernacular Mass in Multan Cathedral, and realised then (as we also did when we had fellowship in Khairagali and sang one another's Urdu psalms and hymns) what a gift he had in the realm of music. But when I remember him, I feel that most of all I shall think of his love of children, and his truly apostolic simplicity of life and dress. He had, if I may dare say so, a great deal of the spirit of St. Francis himself. And as I remember the Faithful Departed and thank God for their life on earth and their fellowship now in worship and adoration, I shall certainly think of Liberius, and feel that the Communion of Saints is richer for his passing on.
May God grant you His comfort and strength in your deep loss.
I am,
Yours in Christian brotherhood,
(Sd/-) William
Bishop of Sialkot
---

The Rev. Jan Slomp, Th. Drs.
Christian Study Centre, Rawalpindi
to Fr. Theobald Schutijser O.F.M.
September 28, 1973.
Dear Fr. Schutijser,
Wednesday morning we were deeply shocked to read in the Pakistan Times about the sudden death of Father Liberius in Rome. We want to express to you as the superior of the Franciscan Order in Pakistan our heartfelt grief and sympathy. We have known Fr. Liberius as a guest in our home in Sahiwal and Rawalpindi for the last 6 years. We learned to appreciate his many qualities of heart and mind while working together on the second edition of the Dictionary of Christian Terminology in Urdu and the revised ecumenical Bible Translation.
Regarding the progress of the former enterprise I had expressed my concern in a letter dated September 17 to Cardinal Cordeiro in which I requested him as his diocesan bishop to release Fr. Liberius exclusively and completely for work on his dictionary and Bible Translation.
The first conference to revise the dictionary was held in 1968, the fourth and last conference was held in October 1972 in our centre in Rawalpindi. Fr. Liberius had assumed the task to get the material ready for the printer. He was going to employ a typist/katib who would type every word with its Urdu equivalent on cards. After that he would have to type a new text in in alphabetical order from these cards.
As Fr. Liberius is no longer alive to supervise this work we request you to arrange for a successor in order to get this work to the printer as soon as will be possible. The dictionary will be basic to the work on various other projects such as the Bible Dictionary in preparation by M.I.K., liturgical texts and other theological books in Urdu.
In Karachi Fr. John Joseph and Fr. Louis O.F.M. participated in the preparation of the revised edition of the dictionary. I was asked by the Urdu Text Book Committee to organize the meetings. I hope we will be able in mutual consultation to find a way to give high priority to the publication of this work.
I am sure thet Father Liberius will have left behind other material also which should be published some time. He promised for the January issue of Al-Mushir an article on Church music and liturgy. We as Christians in Pakistan have certainly lost a very gifted and unique theologian and linguist.
In expectation of your kind reply, yours sincerely
(sd/-) Jan Slomp.
---

The News of Liberius' Death
The first news about Liberius' death came in a telegram from FR. THEODARD HUYS O.F.M., sent from Woerden, Holland. It was soon followed by a telegram from Rome.
LIBERIUS PIETERSE DIED 24/9 OF HEARTATTACK ON ARRIVAL AIRPORT FIUMICINO BURIAL MOST LIKELY IN ROME SINCERE CONDOLENCES AUSTRALIAN PROVINCE HAS BEEN WARNED +++ HUYS
LIBERIUS PIETERSE DIED 24 SEPT AIRPORT ROME HEARTATTACK FUNERAL ROME +++ FATHER MISSION
FR. Reinoud Weienborg O.F.M., in a letter dated 27th September, 1973, gave a few more details:
As you know, Fr. Liberius Pieterse died here suddenly on Monday, September 25 (read: 24 - Ed.), at Fiumicino Airport. Hermes Peters said he had collapsed when changing money after going through Customs.
At first nobody knew who he was, for I had not gone to receive him (....)
In his little notebook, they found 124, Via Merulana, phoned, and were referred to the Curia. From there Tiberi phoned to me. With Hilarius (Peeters - Ed.) and Cesar (van Hulst - Ed.) he then went to Fiumicino, and they identified the body as Liberius. After that the body was taken to Campo Verano by the police, presumably to investigate the cause of death. The body is expected to be released today. The funeral will be held at the Capuchin Church near Campo Verano, probably tomorrow.
The Osservatore Romano and Missioni Francescane are interested in a write-up on Liberius (....).
My sincere condolences with the passing away of this confrere. May he rest in peace!
Then, in a letter dated October, 3, 1973, Fr. Caesar Van Hulst O.F.M. writes about Liberius' death and funeral, and about some other practical matters connected with it:
(....) about his DEATH. After reaching Fiumicino on September 24, at about 14.00 hours, and getting through the usual barriers, he was changing Italian money at a counter just this side of the check-posts when he collapsed, dead. The Airport Chaplain administered the Holy Oils to him. The police began straightaway to try and locate his relations in Rome. Liberius himself had on one official form indicated our Sant' Antonio College as his future address. From there the police were referred to the Curia, which after a few wrong connections at last connected Mission Secretary Tiberi. The latter drove immediately to Fiumicino, together with our Hilarius Peeters; there he heard the story from the police, received the luggage and whatever had been found in the pockets of the deceased, but he was not allowed to see the body: the authorities had already sent it to the roman morgue. It was released the following Thursday only.
The FUNERAL took place at 11.00 a.m. on Saturday, September, 29, in the Cemetary Chapel of Campo Verano. Hilarius and myself concelebrated with Tiberi. The police morgue is near Campo Verano; therefore there seemed no need to first carry the body all the way to the Curia and then back again after the funeral. Present were Fr. Hermes Peeters, your ex-visitator, the dutch confreres from Sant' Antonio Fr. Reinoud (Weijenborg - Ed.) and Bro. Severine (Rijkers - Ed.), ex-definitor Omaecheverria, an other two Brothers. We did it as well as possible, with singing also. After that the body was laid to rest in the vault of the O.F.M. (i.e. of the Curia and Sant'Antonio). Yesterday I have checked his belongings (.... follows the complete list with, among other things:....) 1 cyclostyled book "Christian Terminology in Urdu"; Greek New Testament; Liturgia Horarum (i.e. Breviary) vol.II simple and vol. I more expensive edition; book "Teach yourself Italian"; 1 tabacco-tin with old, not rare coins; 1 file with personal notes "Terminology"; book Hayek "Le mystère Pascal; 1 three-quarter litre bottle of Bisquit Cognac (which I declared to Customs, with Fr. Tiberi's permission)(....) several articles of clothing (....).
Then (....) nobody mentioned it to me, and both economists are absent (....), but I know that a funeral of a confrere we had here some time ago came to about 500.000 lires = $ 850 (....). Life in Rome is cheaper than death! (....)
(....) my condolences with Liberius' departure, and I finish with a sentence from my address (: to the Sisters of the Carolus Clinic): davanti alle porte della Città Eterna, Iddio ha chiamato il padre Liberio alla vita eterna (....).
Lastly, FR. REINOUD WEIJENBORG O.F.M. writes again on October, 10, 1973:
(....) Nobody of the family was present. Also, as far as I know, no photographs were taken. After the funeral, I found an opened letter for Fr. Peterson O.F.M., from J.Pieterse (....). I assumed it was a brother of his, and have written to him about the death and the burial of his relative. Also that I considered Liberius a good Priest and Confrere and Missionary, and something of a genius. At any rate, we have prayed much, thinking of how missionaries are buried, and believing in Liberius' glorious rising.
---

The Return To Rome
by Louis Mascarenhas O.F.M.
On September 24th, 1973, alone and far away from home, Liberius Pieterse collapsed in the city of Rome, ironically just as he was changing money at Fiumicino Airport shortly after his arrival there. What turned out to be incidental, fits very well with the life and work of Liberius. For him it was truly a returning home, for it was towards Roman Catholicism that he turned after giving up his allegiance to his church, and Rome dominated his thoughts in many ways. Although unconventional by character, at heart of hearts he was a man who cared very much for the intricacies of Roman Law and Roman Ritual and Roman Rubrics. His giving up of Protestantism in his early youth must also be viewed from this angle. For him ecumenism really meant a return to Rome.
he history of this small, shy man is clouded in mystery and at times makes one think of Melchisedech. Not much is known about his early years. The archives too have very little information about him and his Protestant background. He was born in Wageningen (Holland) on 12th February 1905, and was baptised with the name of Simon Carel. He did his ULO at Rotterdam, his MULO at Rotterdam, Schiedam and Utrecht. Then he studied at the Conservatorium of Music in Rotterdam. Not much is known of what he did after this, except that he was a sailor for some time. He entered the Seraphic School at Sittard rather late (1926-1929), after which he was received in the Order and vested on September 7th, 1929. The next year he made his simple profession, followed by the solemn profession three years later. In 1936 he was ordained a priest, and seven months later (31-10-1936) he arrived in British India.
Though very talented especially in languages, mathematics, music and art, Liberius chose to develop another of his traits. He identified himself with the downtrodden in society, and made use of his talents for languages to come closer to them. He learned Concanim, Tamil and Punjabi to get in touch with the cooks, bearers and sweepers in society. He neglected himself and his externall dress and demeanour, not worrying anymore where he ate or where he slept or what he wore. The ones who knew him well had a secret admiration for him, while to the others he was just a "dirty friar".
He started work as assistant in St. Patrick's Church and teacher in St. Patrick's High School. Then in the early months of 1937 he became the editor of a new monthly "St. Anthony in India" to make the people acquainted with the wonderworker. In November 1937 he was transferred to Quetta and was assistant at Rosary Church, and assistant principal of St. Francis' Grammar School. During these years he got in touch with the Urdu speaking Catholics as well as with some of the Pushto speaking non-christians. Two years later he was transferred to Sanghar as assistant, and also helped in Mirpurkhas, a small station without resident priest. Then in 1939 World War II broke out, and since Mgr. Salesius Lemmens had started Portiuncula Friary for the training of the local friars, Liberius was taken up in the teaching staff of the Friary. He taught Hebrew, while at the same time being assistant at St. Patrick's Church, Karachi. This involved a lot of cycling and walking since the two places are some 5 miles apart. In July 1941, he was made Parish Priest of St. Francis' Church, Karachi. It was here more than at any other place that Liberius found the style of life he loved so much. This was and still is the parish of sanitary workers, a dirty stinking area, the slums of Karachi despised by the people of Karachi. At the same time he was again editor of the paper he started. Two years later he was again teaching in the Friary, this time philosophy, Greek, Hebrew and music. In February 1844 Liberius went to Sanghar as Missionary-in-charge. Eight months later he was up north in Quetta for work among the Urdu speaking, and then a few months later he was also given charge of the Catholics residing in the rest of Baluchistan. In 1948 he was in Drigh Road, Karachi, on a temporary basis, and a year later was transferred to Nawabshah. In 1950 he was back at Portiuncula as lector in Urdu and as organist. From there he went to St. Anthony's in 1952. In November 1953 he was made member of the Editorial Staff for Urdu publications with central headquarters at Multan. It was at this time that the Catholic Church decided on making an official translation of the Bible in Urdu. Liberius, together with two others, set out to do this tremendous job. Besides doing the work assignments on the Bible, he found time to help out in the "ilaqas". The translation of the Bible is mainly his work. In September 1956 he was assistant at St. Anthony's Church, and two years later he was sent to Sanghar as Missionary-in-charge of St. Paul's Church there. In August 1962 he was back at St. Anthony's, Karachi. Following his holidays in Australia, he decided to work in the diocese of Multan. Part of the difficulty was his inability to go along with the renewal movement among the friars. He worked fo four years in Multan, spending most of his time in liturgical work, translations, and assistance to the priests there in "ilaqa"-work. It was at this time that work was started on the Dictionary of Christian Terminology in Urdu together with the other churches. That very year he got a warning in a severe heart attack. He recovered sufficiently to take part in a study session on the Dictionary up in the hills for ten days. In 1971 he was back in Karachi, and decided to stay in Christ the King Seminary to work with a professor there, Fr. John Joseph, on a new ecumenical translation of the Bible as well as the translation of the New Roman Missal. Then, in 1973, the need of moving around and helping in the outlying areas made him leave the Seminary premises and to reside at the Cathedral, while working full time for three little churches, St. Francis Xavier's Qayyumabad, St. Theresa's in Korangi Township, and Stella Maris church at Korangi Creek. The areas were quite far apart and required a great deal of rough traveling. To the day he left for Dubai en route to Rome, Liberius was the man on the move, busy seeing to things that were in the press, visiting families to say goodbye, and marveling within himself that God had given him so much strength despite his years and weak health.
The various places he worked at and the various jobs he undertook were possible only because Liberius had talents and a wonderful way of adapting to situations. He always remained himself and lived the style of life he wanted. Except for the external requirements of the job, no one till today knows exactly how he spent his days. To the very end he remained the man who had no set timetable, no fixed plan of work; it is fascinating nonetheless to see what he accomplished.
It is unfortunate that Liberius wrote no memoires. His close association with the people and with the country — he was the only missionary who took a Pakistani passport — his knowledge of local customs and traditions, his grasp of the language, his feeling for people could have all served as valuable material for preparation of people for a continuing ministry to the various groups of people.

Publications
a. Historical
As Editor of "Saint Anthony in India", Liberius wrote many of the articles, especially about the early developments of the Church in Sind and Baluchistan. Further, he also published articles on the establishment of the churches up-country in St. Thomas' Chronicle, a communication paper for the friars in Pakistan and India. There are more things which he published in other reviews, but we do not have access to them. In 1947, on the occasion of the Independence of Pakistan, Liberius published a history of the Church in Sind and Baluchistan. It is entitled: IN THE LAND OF THE SINDHI AND BALUCHI. This is a very valuable piece of historical literature, and everyone who works on the history of the Church in Pakistan has to consult it.
b.
Biblical and Liturgical
The work which has really made Liberius known all over the country, and which the local press published as soon as news was received of his death, was the translation of the Bible into Urdu. He called it KALAM-i-MUQADDAS to distinguish it from the Protestant version of the Bible in Urdu. This is the book more than anything else which has brought the message of God to the people all around. Liberius admitted years later that the work needed amendment and that it was amateurish. The style is pedantic and lacks the sacredness of the Protestant version. It is too Arabic inclined in the use of terminology. Liberius wanted a translation different from the Protestant one, and further loved to construct new words from the Arabic triliterals. Both these elements are to be found in the translation. Liberius worked on the translation together with a group, but knowing more Greek and Hebrew than the others, and with a zest for work nobody could compete with, he has practically done the translation himself. In the last few years Liberius has felt the need to work together with the Bible Society for a new translation of the Bible. He has been doing this with another Pakistani priest, Fr. John Joseph. So far they have finished the first letter of John and the letter to the Romans.
In 1964 he translated into Roman Urdu the Roman Missal for Sundays and for daily use. In 1971, together with Fr. Exupere OFMCap and Fr. John Joseph, he published the Ordo Missae in Persian script and Roman Urdu. In 1972, together with Fr. John Joseph, he published the Sunday section of the New Roman Missal. A final and more definitive publication in Urdu of the Roman Missal is in the press and runs over 500 pages. This work too is appreciated very much by all who use it, though many felt that Liberius should have used his talents for a more constructive type of Missal adapted to the needs of the local church. His love for Rome once again got precedence over his love for the local church.
In order to brighten the liturgy, Liberius published a hymnal in 1955: HAMD-ULLAH. This was a book of about 200 pages of hymns in Persian script. To help the missionary, he also published an accompanying edition with musical annotations of some of the more important hymns. Besides this there was a smaller edition of musical annotations to make up for the gap in real liturgical music for the Ordinary of the Mass. These hymns reveal the wealth of knowledge Liberius had of various cultures. He has taken tunes from all over the world, and adapted them to the local scene. Today this book is not considered very much, and no one really likes to use hymns which are plainly very foreign, but in the days when there were no hymnals in the Catholic Church and it was not considered good grace to use Protestant hymnals and psalms, there was no other way. — in 1972, the book was completely revised and published with the help of Mr. Ghulam Felix, a local poet: NAYA GEET GAO is the name of this new hymnal, and already it is found all over the church in Pakistan. It caters for various needs and for various groups.
The last years Liberius completely revised the Roman Ritual which he published in Roman Urdu in 1955. This ritual, like the Bible, is pedantic and too Arabic inclined, but it has filled a need. Liberius constantly struggled with this point: how to make the translation as easy and simple so that the common man and the missionary himself would have no trouble in understanding it. It is strange that the result has been so opposite. Together with the same Pakistani priest he has revised some of the rites for the sacraments. He has published: Baptism for children, Baptism for adults, the Rite of Confirmation, Marriage, Sacrament of the Sick. These are definitely much better, but here too Liberius' love for the Roman Ritual and Rubric has acted as an inhibiting force in the adaptation to local culture and traditions.
c. Theological
The important contribution that Liberius has made to the Church in Pakistan in this field is the translation of the Coucil Documents into Urdu. As member of the Institute for Religious and Social Studies, Karachi, he was mainly responsible for the complete translation of these Documents. He heimself translated the Documents on: The Church, Revelation, Liturgy, Ecumenism, Eastern Curches, Religious Life, Priestly Life, Priestly Formation, Missionary Activity. He also revised the translation of other Documents. The Documents were not at all easy to translate. A new terminology had to be built up. The translation of the Documents has been received with mixed feelings. While in general it is acknowledged that this is a valuable contribution to the life of the Church, there are many who feel that the translations are too high and too difficult. This is probably because the original language of the Documents is too difficult for the ordinary layman and even priest.
A final work, which will be a monument to Liberius, is in process of completion. This is the DICTIONARY OF CHRISTIAN TERMINOLOGY IN URDU. In 1960 Liberius, together with Fr. Tovias Bastiaanse O.F.M., published a first edition in mimeographed form. That edition has long been out of print. In 1969 it was decided by the Institute for Religious and Social studies to take up contact with the Protestant Churches and to see whether they would be interested in an ecumenical publication of the Dictionary. The response was very positive. Liberius too welcomed the decision, though he remained somewhat suspicious. A joint study was organized in 1968, and representatives of the different Churches — about 15 in all — gathered for some ten days. A new version was then mimeographed, taking in all the changes and suggestions. This was sent to the Heads of the different Churches in Pakistan and to interested persons in Pakistan and abroad. Following Church Union in November 1970, it was decided to go ahead for a final publication of the Dictionary. Since then there have been five more study sessions. Liberius was given charge of preparing the book for the printer. However, he kept on postponing the publication. When he left for Dubai very little had really been done, even though the work was expected to be completed and published in June. One of the reasons for the delay was the pain he was experiencing in finding his terminology rejected in many places; also the increase of Protestant terminology of a type that he felt did not do full justice to the words. He was also afraid of the anglicanizing influence of the Protestant terminology. The work is now moving ahead together with the Christian Study Centre in Rawalpindi and the Institute for Religious and Social Studies in Karachi. This project is being jointly financed.
There are more things that could be said and written about Liberius. This article has tried to picture him more from his contributions to the local Church on an intellectual level. The Liberius who will be remembered and appreciated ever more is definitely the one who was poor and simple and who identified himself so much with the ordinary man. His death could best be described in the words of Goethe:

Then dared I hail the Moment fleeing:
Ah, still delay - thou art so fair?
The traces cannot, of mine earthly being
In aeons perish they are there!
In proud fore-feeling of such lofty bliss,
I now enjoy the highest moment - THIS!
---
Comprehensive List of Publications
Fr. Liberius Peterson O.F.M.
compiled by
fr. Louis Mascarenhas o.f.m.
1. Bible (translations)
Kalam-i-Muqaddas, Paulist Publications, Rome 1958.
= together with Fr. Evarist O.F.M.Cap., Fr. Arseen O.F.M.Cap., Fr. Salvator O.P., Mr. Paul Ernest.
Ecumenical Translation:
- Yuhanna Rasul ka pahla Khat, Al-Mushir vol.13, n.5-6, p. 1-9 (1971).
- Muqaddas Paulus Rasul ka Khat Roma ki kalisia ke nam, Bible Society, Lahore, 1973 (mimeographed).
2. Theology
Christian Terminology in Urdu, Karachi 1960 (mimeographed).
= together with Fr. Tobias Bastiaanse O.F.M.
Christian Terminology in Urdu, Karachi 1968 (mimeographed).
= an ecumenical work after the meeting of a Committee of 15 members of Catholic and Protestant Churches and a Muslim scholar at Khairagali, September 1968.
Christian Terminology in Urdu.
= a definitive edition now being prepared after a series of study meetings of Catholic, Protestant and Muslim scholars; to be published jointly by The Christian Study Centre and Institute for Religious and Social Studies.
Documents Vatican Council II (translations), published by the Institute for Religious and Social Studies.
- Kalisia (Constitution of the Church), 1967.
- Usaqifah (Bishop´s Pastoral Office in the Church), 1967.
- Rahabana Zindagi (Renewal of Religious life), 1967.
- Ilahi Muqashifah (Divine Revelation), 1967.
- Shariqi Katolik Kalisia (Eastern Catholic Churches), 1967.
- Tabligh (The Church's Missionary Activity), 1968.
- Qasawisa (Life and Ministry of the Priests), 1968.
- Tarbiyat Qasisi (Priestly Formation), 1968.
- Pak Lituria (Sacred Liturgy), 1969.
The other documents were translated by Mr. Hasan Masud, Mr. A.D. Joseph, Mr. Ghulam Felix Masih, and Fr. Nicholas Viegas O.F.M., and revised and checked by Fr. Liberius.
3. Hymnals
Hamd-ullah (Persian Script), Karachi 1955.
Hamd-ullah (Roman Urdu, with musical annotations), Karachi 1956 (mimeographed).
Kyrie, Sanctus, Agnus Dei, Meditation Hymns (Roman Urdu with musical annotations), Karachi 1964.
Naya Geet Gao, Karachi 1972
= together with Mr. Ghulam Felix Masih.
4. Missals (Translations)
Missale Romanum (Roman Urdu), Karachi 1964.
= together with Fr. Simeon Pereira.
Ordo Missae (Persian script), Multan 1971.
= together with Fr. Exupere O.F.M.Cap & Fr. John Joseph.
Ordo Missae (Roman Urdu), Multan 1971.
= together with Fr. Exupere O.F.M.Cap & Fr. John Joseph.
New Missale Romanum (Persian Script), Karachi 1972-1973.
= translation of Sunday Mass texts, together with Fr. John Joseph.
New Missale Romanum, definitive and complete, in print.
= together with Fr. John Joseph.
5. Rituals for Sacraments and Sacramentals
Rituale Romanum (Roman Urdu), Karachi 1955.
Infant Baptism, Ritual Nr. 1, Karachi 1973.
Adult Baptism, Ritual Nr. 2, in print.
Confirmation, Ritual Nr. 3, Karachi 1973.
Matrimony, Ritual Nr. 4, Karachi 1973.
Anointing, Ritual Nr. 5, Karachi 1973.
= Nrs. 1 - 5 of this ritual together with Fr. John Joseph.
The rites for Ordination (translation, unofficial mimeographed edition), Multan 1971.
The rites for Consecration of Bishops, Karachi 1971
= unofficial printed edition for the consecration of Bishop Bonaventure Paul.
Bishops Consecration Simeon Pereira, 1971.
= unofficial printed edition.
Calendar & Readings, Liturgical Year 1972-1973, Karachi.
Calendar & Readings, Liturgical Year 1973-1974, Karachi.
6. History.
In the Land of the Sindhi and Baluchi, Karachi 1947.
7. Miscellaneous
Besides the above, Liberius has published numerous articles in "St. Anthony in India", "St. Thomas Chronicle" and in various mission magazines to which we do not have access now. There are also books published by others, in which he has played an important role, e.g. W.G. Youg, Transliteration of proper names into Uru (Theological Textbook Series, nr. 7), Gujranwala 1968.
Liberius was also working on an article on the contributions Franciscans have made in the translation of the Bible. There was also an article being prepared on Music in Pakistan for the review Al-Mushir.
Some of his hymns have been published by a German firm, but the exact details are not available now.
---
In Memoriam
Fr. Liberius Pieterse O.F.M.
by
Fr. Modestine Pöttgens O.F.M.
If of one can be said that he died in harness, it has been Fr. Liberius. As one of the Editorial Staff for Urdu Publications (he has had the lion´s share in the translation of the Bible in Urdu), just two days before leaving for Rome to attend a Seminar on Bible translations, he submitted the last part of the Urdu translation of the New Missal (550 pages full size) to the Press and asked the Press Manager to send him the proofs to Rome, as he wanted it to be put out before Advent 1973. Besides, two weeks before, he had completed the Calendar and Readings for the Liturgical Year 1973-1974. As an additional task, he had temporary charge of the new St. Francis Xavier's Parish, Qayyumabad, in the Defence Housing Society, St. Teresa's in Korangi, and Stella Maris' at Korangi Creek, a task which he fulfilled traveling by bus, rickshaw and by foot.
No surprise about the telegram on 25th September, informing us that Liberius died at Rome Airport soon after arrival. One must know that he had already once a heart attack a couple of years ago.
From the moment Fr. Liberius arrived in Karachi in 1936 as a youg Franciscan Priest, he spent his fine talents of heart and soul, and the talents of his brilliant mind (he was a genius in languages, mathematics, music and art) out of love for God for his fellowmen, especially for the poor, the down-trodden, the children. He has been doing this in the course of years all over Karachi, in Quetta and Baluchistan, Sanghar, Nawabshah and elsewhere in Sind, and even in the Punjab.
He knew as many as 23 languages. He spoke Sindhi with the Sindhis, Punjabi with the Punjabis, Pushto with the Pathans, Baluchi with the Baluchis, Concanim with the Goans, Tamil with the Tamilians, and he spoke and read Urdu as if it had been his own mothertongue. Besides, he spoke most of the European languages, at least he understood them. He set examination papers in Latin, Greek and Hebrew for the Matric Prelims. He was an artist at the Piano in Western music and could transpose and play Pakistani and Sindhi music. Higher mathematics was a hobby for him just as was drawing and painting. When Mgr. Alcuin became Bishop in 1948, he asked him to draw a code of arms for him. Fr. Liberius went in the evening to the Friary and the next morning he presented to him two samples. The one the Bishop chose was praised by two Professors in heraldry as perfect. And all these talents of soul and mind were hidden under tha humble face of a simple man, formerly dressed in a torn and mostly dirty habit, later in simple shalwar and kamiz, and of late in Sindhi dress and in his parish in a patched Franciscan habit.
Nobody knows how much, or better, how little he slept. His room neighbour could often hear him typing at 2 a.m., and at 5 a.m. he was saying his Mass in the church. One morning he overslept and awakened at 7 p.m. and thought it was morning. When in charge of St. Francis' at Haji Camp, he slept in the open with his habit under his pillow; a thief took it away, with keys and everything in it; he could not get into his house. Fruit and sweets from his plate disappeared most quietly into his sleeves for his little friends.
Fr. Liberius has finished his course. He had fully understood Christ's invitation to preach the Good News by giving his life fully for others. He has been a real "pilgrim and stranger" as a good son of Saint Francis, wandering like him through the world as a vagabond, at the same time singing God's praise by his life of selflessness and faith in God. And in the shadow of the graves of Saint Petefr and their successors at Rome, the Vicars of Christ to whom he was faithful and obedient like our holy Father Francis., he gave his soul back to his Maker. With Him he can sing:
Be praised, my Lord, through our Brother Death of the Body,
from whom no man among the living can escape,
Praise and bless my Lord, and tank him too,
and serve him all, in great humility.
---

Fr. Liberius Pieterse O.F.M.
As I Know Him
by Mr. Louis Pinto
On the 26th September, 1973, people who were acquainted with Fr. Liberius woke up to read the news in the local paper "Dawn" the sad and sudden demise of this valiant and thoroughly devoted Soldier of Christ, who sacrificed his whole life to serve humanity in Pakistan. The untiring efforts exercised by this aged Priest in performing his apostolic duties has left a tremendous impact on many parishioners where Fr. Liberius was posted. After meditating on the years spent together with Fr. Liberius, my conscience has prompted me to write this tribute, and this, I feel, is the only option left before me by way of which one could honour him.
Fr. Liberius was not a born Catholic and his conversion was a pleasant mistake. It all happened on Christmas Day, when he accompanied his sister, who was a Catholic, to church. At the time of Communion, the sister went to Communion, and was instructed to be seated. Being curious to know what was being distributed, he decided to get into the queue and reached the Communion rails and then, to avoid embarrassment, received Communion. His sister, on seeing this, admonished him on the wrongful act. Although the act was wrong, yet this was the stepping stone for Fr. Liberius first to get baptised in the Catholic Church abd subsequently join the Friary.
I came in contact with the late Fr. Liberius during the year 1955 as an Altar boy. The warmth and affection this Priest had in his heart for the parishioners, especially the poor, infused one and all to come and join the organizations of which he was the Director. During the tenure Fr. Liberius was assistant Parish Priest in St. Anthony's, we had four Praesidia of the Legion of Mary, every Community had a choir of their own. Besides, the Altar Boys were in plenty, which made the task of allotting duties extremely difficult as every boy wanted to serve but had to wait for his turn due to the long list.
To find a replacement of Fr. Liberius, one could scan the world over but would never find a Jewel of a Man anywhere. We must remember that he was a linguist and spoke more than 20 languages. He was the man who translated the Holy Bible in Urdu. He composed Urdu Hymns and music. His Mass was of the duration of 15 minutes and Confession maximum 3 minutes. He would hear Confessions even while playing the Piano in Church, leave alone at his house or a few minutes in the Sacristy before Mass.
Socially, Fr. Liberius was always interested in orphans and in fact he has educated many a child in Karachi and got them married successfully. He ate the poorest of food offered to him. He would dine sitting on the ground and would sleep on the floor. For the poor of the parish, he was their Man on the Spot. He has immense love and affection for the underprivileged and therefore, anybody who approached him was never left unaided. It could be said of him that he walked exactly in the foot-prints of Saint Francis of Assisi.
Prior to his departure to Rome and Australia, Fr. Liberius was posted at Korangi and Qayyumabad where he has already built a small Chapel for the parishioners. This Chapel is in dire need of the basic elements necessary for the faithful to offer their prayers. He had requested the present writer to get the co-operation of St. Anthony's Youth Club to raise funds for furnishing the Chapel and after the return of Fr. Liberius from his visits to Rome and Australia, a campaign for raising funds was to be launched.
And now to end this tribute, I would request the readers to say a short prayer for the departed soul. May His Soul Rest in Peace.
---
To the Editors
Fr. Louis Mascarenhas O.F.M. writes in reply to the letter published in NEWSLETTER O.F.M., September 1973, pp. 51 - 54.
Karachi, 30.9.1973.
Dear Editors,
Fr. Liberius' death at Rome marks the end of one of our greatest pioneers and scholars. There is no doubt that in his own way Fr. Liberius has done very much for the whole church of Pakistan. The thing that I admired most about Liberius was the way he got down to people, identified himself with them and won their hearts. But he died as he had lived, outside his own group, a stranger whom all admired, a man who had to live his own life. I too admired him. I miss him. In these days of grass-root involvement and spirituality, he was one of the few who risked his name and his reputation.
I am writing this letter to you because I found it a real pity that you published the letter of Liberius now that he died. I can understand your sincerity in publishing everything you receive, especially since we are living in a situation where this does not always seem the practice, but the letter lends itself to misunderstandings and might give a too one-sided and bitter picture of Liberius in his later years.
The first time I came in contact with Fr. Liberius was as an altar boy in the early 1940's. I was at St. Lawrence's Convent waiting for the priest to come, when all of a sudden Liberius came rushing in. He was unrecognizable and unapproachable; unrecognizable because of his long and unkept hair, his beard all to one side because of a peculiar mannerism he had, and unapproachable because of his "odor sanctitatis". That was the type of Liberius I was to know for a long time, the unconventional type, who admitted to me that he loved going against the trends and to do the opposite of what authority wanted. The use of the habit and the sacred tonsure which were such important things in those days meant little or nothing to him. Liberius was far ahead of his time and far different. Because he was shy and reserved this did not create such a big problem for the fraternity. I am almost inclined to say that because of this his talents, though recognized, were not sufficiently appreciated.
The Liberius we have known in the later years was still the unconventional type, and the one who went against the trends. In psychiatric terms this stage could best be described as "retarded progression". A man who had gone ahead and then couldn't keep going any more. The fraternity had caught up with him and were ahead, and he had to react against this. In itself, retarded progression is not something new. It is happening all over the world among renowned scholars and eminent priests, bishops and cardinals. It has nothing to do with identification with the masses or with local culture and traditions. Liberius, though very progressive on a practical plane, wsa still the loyal Roman Catholic who had the truth which the Protestants did not have. Being a convert from Protestantism he still longed for the things that had attracted him to the Catholic Church. He was friendly with Protestants, but theologically was very distant from them. This was very clear in the translation of the Bible as well as in the discussions we have been having over the last few months in preparation for the publication of the Dictionary of Christian Terminology in Urdu. He kept the work of re-writing the words to himself. The sad result was that for over a year he did nothing about it, and the book, which was to be published last June, is now left completely undone. He could not stand the theological discussions and opinions of Lutheran or Calvinist Theology, and would often suggest old scholastic explanations. He found it very difficult to swallow their terminology.
I remember once Liberius wrote to me regarding the renewal taking place in the Church of Pakistan. It was around 1968. He had chosen for Multan Diocese, and was all praise for the wonderful friars there. But htings started changing in Multan too. Liberius wrote to me that he felt that the Reformation and the divisions in the Church were due to the priests. I wrote back to him that he had got his history wrong, since Pope Adrian admitted at that time that the Reformation was due to the sins of the Curia and the Bishops. We did not argue much about this, but we corresponded regularly. The renewal hurt him because it did not take place in a guided way, and because of defections in the fraternity. He had nothing to cling on to any more, and so he reacted by joining the higher-ups. Liberius, who had always kept a safe distance from all in authority, suddenly became "their great friend". He felt safe there, and recognized in some of them the same elements he himself thrived on. They appreciated very much his contribution to Urdu, Liturgy and Rubrics. From the fraternity the distance grew even more, so that quietly Liberius even shifted to the Australian Province. Many Friars still respected him and his energy, but most of them kept at a safe distance from him.
I feel that the letter you published in your September issue should be understood against this backgound. It should not make us feel bitter. It might lead some to say that Liberius did exactly what he was telling others to do: Bow out and go. I feel the letter must be seen as the reactions of a man who in his later years was asking very much for recognition, and who felt very much let down by his own friars and by the new trends in theology and pastoral practice. He was a man who had decided to resist authority no longer, but to have more quiet of heart and mind as he got nearer to his people. I still love the way he got down to people, the way he could communicate with almost any language group in Pakistan, and the many poor whom he has now left as orphans. I do hope some of us could emulate him in this.
---
A friend for the poor
And the holy frown
He joins in their parties
They scandalize the town.
A friend for the poor and God has made
Our homelessness his home.
A man on a cross
And the sun beats down.
Up there on the gallows
He's got a thorny crown.
A man on a cross and God has made
Our homelessness his home.
A voice in the dawn
When the women came,
"You're looking for Jesus
Don't seek him in a tomb."
A voice in the dawn and God has made
Our homelessness his home.
(Geoffrey Ainger)